Important Information from Adirondack Orthodontics During the Coronavirus (COVID-19) Pandemic
Last Updated on 4/1/22
Thank you for continuing to trust us with your care, and thank you for doing your part in keeping our community safe and healthy as well by wearing masks, staying home, and waiting in the car before your appointments. It means the world to us that our patients have relied on us to keep them safe during the COVID-19 pandemic, and we are grateful to partner with you in these efforts. We would like to take this opportunity to reassure you that the health and safety of our patients and families, as well as our staff and their families, are always our highest priorities.
Per the latest determination from the New York State Department of Health (March 2, 2022), visitors to healthcare facilities who are "two years of age and older and able to medically tolerate a face covering/mask shall be required to wear a face covering/mask in health care facilities, regardless of vaccination status, subject to applicable CDC exceptions, and until this determination is modified or rescinded." In accordance with this, Adirondack Orthodontics will be following the state mandate and requiring all such visitors to our office to continue to wear masks indoors.
Masks must cover the nose and mouth, and acceptable masks include cloth masks, surgical masks, and N-95 respirators. If you arrive without a mask, we will be happy to provide a surgical mask for you.
We will take every step needed to keep you, your families, and our staff members safe, and we will update this page as new information and state requirements emerge. Please let us know if you have any questions.
---
Invisalign vs. Braces
How to Know Which is Right for You
Once you have decided to invest in the health and appearance of you or your child's smile through orthodontia, next you will need to decide between Invisalign or braces. An experienced orthodontist will be able to tell you which will work best for you, but we always believe in keeping our patients fully informed so that they can choose the option that fits their lifestyle best.
Read on to learn more about the pros and cons of Invisalign and braces.
How Much They Cost
While the costs of both Invisalign and braces vary, Invisalign tends to be the more expensive option. However, it's important to factor in dental insurance coverage and available discounts before you determine which option is more affordable for you and your family.
How They Look
One of the most common reasons our patients choose Invisalign is that it's a discreet option. Invisalign comes in a series of clear aligners, while braces involve metal brackets being placed on the teeth for the duration of the treatment. If you want a less obtrusive treatment, Invisalign may be the best option for you.
How They Feel
Moving your teeth into their proper positions, no matter the method, can be an uncomfortable experience. However, braces tend to be a little more uncomfortable because brackets are not just placed on the front of teeth but around the back molars as well. This can result in discomfort inside of your mouth.
How Convenient They Are
Braces are easy to manage because your orthodontist does all the work during your appointment. Invisalign requires you to take the aligners on and off and use them in the correct sequence. However, this also means that Invisalign makes it easy to floss and brush your teeth, and you won't have to forget any of your favorite healthy foods. Braces require you to limit or stop eating certain foods and maneuvering a toothbrush and floss around the brackets and wires can be difficult.
How Well They Work
Fortunately, following your orthodontist's instructions will mean that Invisalign and braces are equally effective. When it comes to the end result, you don't need to choose one over the other.
No matter your budget, lifestyle, and preferences, Adirondack Orthodontics can help educate you on the pros and cons of each type of treatment. Ultimately, your choice should involve not just the factors listed above but the recommendations of our orthodontist after an in-person consultation. After your examination and taking any scans and X-rays, we can provide a recommendation and get you started on your journey to a healthy, beautiful smile. Schedule your free consultation today!
---
Foods You Can't Eat with Braces
What to Eat & What to Avoid
While you go through the process of aligning your teeth with braces, you need to consider what you eat to avoid any potential problems. Brackets and wires can be dislodged with something sticky, while certain foods may get stuck in your braces, creating tooth decay. Whether you want to maintain your braces or keep your teeth in pristine shape, we recommend avoiding common food pitfalls.
Take a look at just some examples of foods you can't eat with braces.
Hard Food
Enough force can cause your braces to break, so hard food is a no-go. Carrots and other raw veggies, hard candy, ice, hard cookies, and other hard foods should be avoided.
Sticky Food
Probably the most well-known entry on the no-no list is sticky candy. Caramel, taffy, and gum can create major problems for your braces, not to mention getting stuck on your teeth and creating cavities.
Crunchy Food
Unfortunately, even crunchy food can disrupt your braces. Snacks like hard pretzels and popcorn should be avoided, and even then you should also stay away from nuts and many types of chips.
Other Food
Certain foods are just hard to bite into with braces, especially foods that require you to bite down with your front teeth. Corn on the cob, chicken wings, bagels, beef jerky, and apples are at the top of that list. Pizza crust and large pieces of meat should also be avoided.
The list of items to avoid eating may seem daunting, but there is plenty you can eat while you have braces! Pasta, potatoes, soft breads, most fruits, and cooked (soft) veggies are all safe to enjoy. And, of course, most dairy products are easy to eat with braces and will cause no issues, so continue eating yogurt and cheese. Lastly, if you do want to eat candy, just make sure it's not hard or sticky, and be sure to thoroughly brush and floss your teeth afterward.
Taking care of your teeth and braces doesn't have to be a worry. Just plan ahead and think twice before you bite down on anything hard, sticky, or crunchy. And if you have any issues with loose or broken braces, just give us a call at Adirondack Orthodontics.
---
Types of Invisalign
Find Out Which Type of Invisalign Will Work Best for You
By now, you've probably heard about Invisalign, the modern orthodontic system that uses a series of clear, custom-made aligners to help you get the smile you want. But what you may not have known is that there are several different types of Invisalign. Your age, the condition of your teeth, and the types of problems you're facing are all factors that you should consider as you decide which type of Invisalign you'd like to use for your treatment.
Take a look below at the different types of Invisalign to get a better idea of which treatment may be right for you. And when you want to find out for sure, turn to the orthodontic experts providing Invisalign throughout the Capital Region: Adirondack Orthodontics!
Invisalign Lite
With a treatment duration of six to seven months, Invisalign Lite is usually recommended to patients who have mild to moderate problems like overcrowding and alignment issues. If you have a crown or if you want to correct a minor issue, Invisalign Lite may be the right choice for you.
Invisalign Teen
Designed for young adults (teens) whose teeth are still developing, Invisalign Teen aligners come with indicator dots to notify the wearer of when to change the aligner. Candidates for this type of Invisalign may need help with straightening their teeth while setting aside room for teeth that have yet to erupt.
Invisalign i7
Invisalign i7 is the treatment usually chosen for overcrowding. Seven aligners are used over the course of three to six months to correct this kind of mild orthodontic issue.
Invisalign Full
Known for treating more advanced orthodontic issues, Invisalign Full generally takes around 12 to 18 months, depending on the complexity of the problems. This type of treatment is usually chosen by adults who need aligners for their upper and lower teeth.
No matter the severity of your overcrowding or misalignment or how far you are from your ideal smile, Invisalign has a comfortable, discreet option you can choose to get the perfect smile. As always, your team at Adirondack Orthodontics would be happy to provide a full clinical examination and help you decide which treatment to choose. We can even go over the cost and financing information so you can make a plan to achieve the straight, beautiful, and healthy smile you've always wanted!
Schedule your free Invisalign consultation today!
---
New Year, New You!
Get the Smile You Want in 2021
Think back to the beginning of 2020 and everything that was on your list of resolutions. It doesn't require much reflection to realize that what you accomplished may look very different from what you had planned.
For many people, 2020 forced us to think about what's essential. As you take a moment to appreciate all you did to get through the year, remember to focus on what's truly important: the physical health and emotional well-being of you and your loved ones.
Start Fresh in 2021
As you make your New Year's resolutions this time around, pledge to put your health at the top of the list. At Adirondack Orthodontics, we know that the appearance and condition of your teeth directly affect your overall health and self-confidence. We can get 2021 off to a great start by putting together a plan to help you achieve the beautiful, healthy smile you've always wanted.
January is the perfect time to start, either with braces or Invisalign. This is the time of year when your available insurance benefits are at their highest. Similarly, your FSA/HSA account is full, meaning you can decide exactly how you want to spend it and make the most of your money.
Our caring, compassionate, and professional team is here to assist you in understanding the services you'll need to correct an underbite, overbite, missing teeth, overcrowded teeth, and more. After a complimentary examination and assessment, we'll even help you plan out the payments so they stay within your budget.
Love Your Smile, Love Your Experience
No matter what type of orthodontic treatment is right for you, Adirondack Orthodontics provides the Capital Region's top-rated services, and we're ready to begin when you are. Use our handy treatment planner to get started or contact us to speak with someone in person. We look forward to giving you the best experience possible and ensuring you have something to smile about in 2021!
---
Now is the Time to Spend Your FSA – Before It's Too Late
Here's a great way to get 2021 off on the right foot: be sure to maximize the use of your flexible spending account (FSA) before the new year starts! The last day to incur expenses with your 2020 FSA is December 31, 2020 – so if you currently have money in your FSA, you need to move quickly to ensure you put it to good use. At Adirondack Orthodontics, we can help you put those dollars to work, while also putting a plan in place to ensure affordable orthodontic treatment using your FSA in 2021.
If you already have an FSA, you know money in that account is set aside for medical costs within the calendar year. This money is generally provisioned on a "use it or lose it" basis, which means it doesn't roll over to the following year and should be used in its entirety. No matter how much money you have remaining in your FSA, our team can help you make the most of it by funding an ongoing or new orthodontic treatment.
Adirondack Orthodontics is known for working with patients to ensure they receive the orthodontic solutions they need while staying within their budgets. In addition to directing your FSA toward the cost of orthodontic treatment, you can always take advantage of discounts and offers we provide to make treatment even more affordable.
Whether you're a current patient or getting ready to begin your journey, Adirondack Orthodontics is here to make sure you realize your dream of achieving a beautiful and healthy smile. Call us today to schedule a consultation, or request an appointment through our website, and let us put you on the path to success. We're certain you'll Love Your Smile and Love Your Experience!
---
Important Information from Adirondack Orthodontics During the Coronavirus (COVID-19) Pandemic
Flu Season Meets Coronavirus (COVID-19):
Here's How Adirondack Orthodontics is Keeping You Safe
Last Updated on 10/22/20
The fall foliage is dazzling, the mums and pumpkins are cheerful, and the cider donuts are delicious. Autumn is a wonderful time of year in the Capital Region, and we hope you and your family are enjoying all it has to offer.
At the same time, we know that winter is right around the corner, and with it comes colder temperatures, ice and snow, and cold and flu season. This year, as the coronavirus (COVID-19) pandemic presses on, it is more important than ever to protect ourselves from the spread of contagious illness.
At Adirondack Orthodontics, we want to reassure you that the health and safety of our patients and families, as well as our staff and their families, is always our highest priority. As you know, we have taken significant steps to provide a safe environment for care and treatment. Now, with the combination of COVID and flu season, we are reinforcing and strengthening our commitment to doing everything possible to keep you safe:
Members of our professional team, including both administrative and clinical staff, are receiving flu vaccinations. We highly recommend and encourage all patients and families to get flu shots, as well.
We have purchased and installed upgraded air purification systems in each of our offices to ensure the air is continuously filtered and cleaned throughout the day.
We continue to screen all patients as they arrive at the office for treatment, and to ask that any patient experiencing symptoms call to reschedule their appointment.
With the arrival of flu season, we are doing even more to minimize the traffic in our offices. This includes scheduling additional time between appointments, and asking parents/guardians to help us by checking their children in and then waiting in the car until treatment is completed. Our goal is to keep the waiting room as empty as possible at all times.
As a reminder, we have not, and will not, institute or increase any patient fees to cover costs associated with enhanced COVID-19 protocols, which are listed in more detail below. We consider this to be our responsibility as a healthcare provider, and we take it seriously.
It is difficult to put into words how much your cooperation, support and encouragement have meant to us during this challenging time. We are extremely fortunate to care for you, your amazing children and families, and privileged to be part of your journey to a beautiful, healthy smile.
Thank you for your trust, confidence and friendship, and we look forward to seeing you and your family soon!
Yours in Good Health,
Dr. Sergey Berenshteyn
---
Times Union's 2020 Best of the Capital Region
The numbers don't lie! We're honored to have been named to the Times Union's 2020 "Best of the Capital Region" list in the best dentist/orthodontist category. Thank you to all of our fabulous patients and wonderful families who helped make this possible.
For years, Adirondack Orthodontics has helped residents of the Capital Region attain their goal of having an incredible smile. With five locations in Albany, Glens Falls, Latham, East Greenbush, and Clifton Park, we help ensure the entire region has the service that they deserve. Because of the best patients, best families, and the best staff, Adirondack Orthodontics is a great place to achieve a healthy, beautiful smile!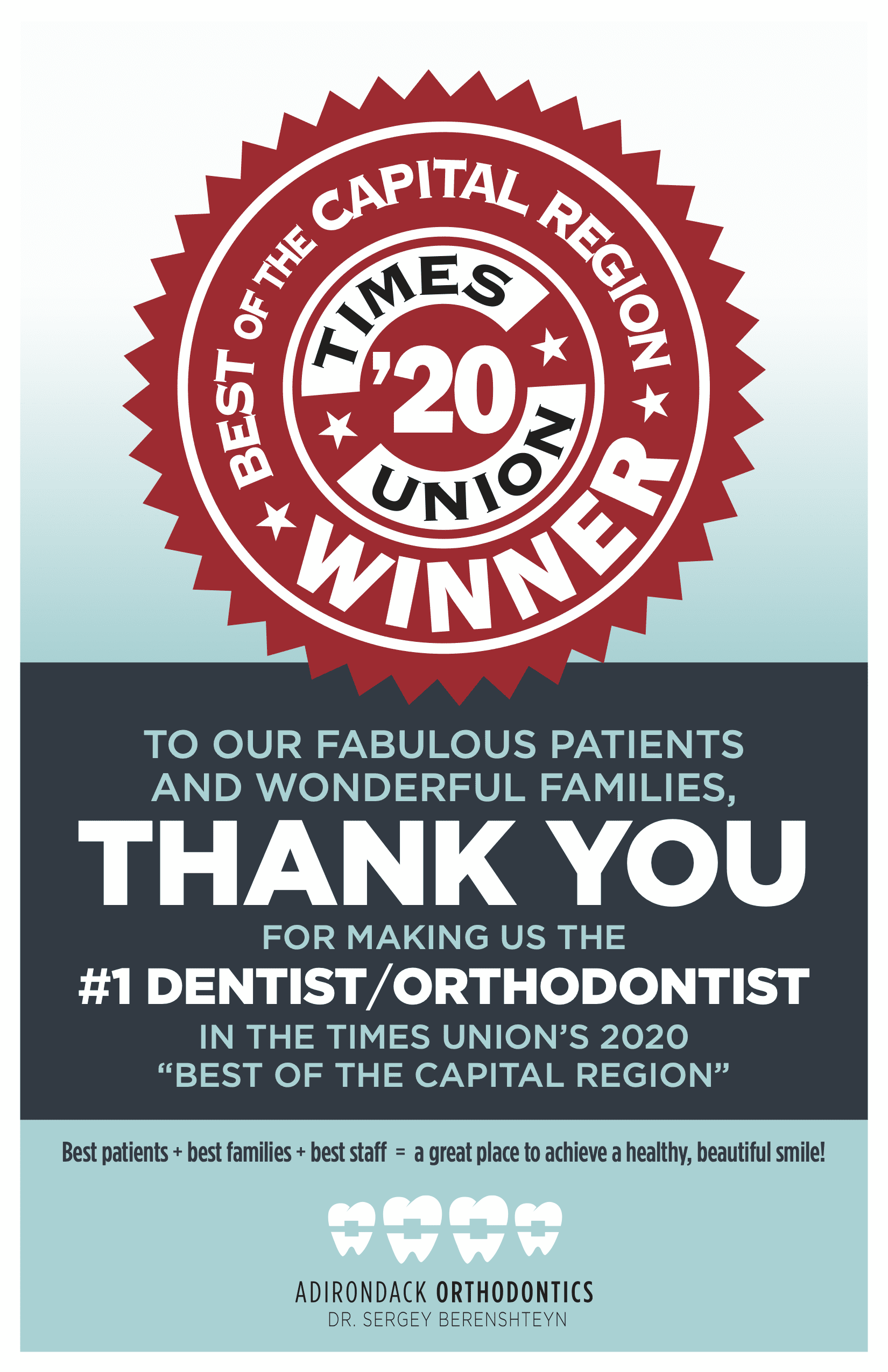 ---
Considering Invisalign? There's Never Been a Better Time
If you've dreamed of straightening your smile, improving your health, and raising your self-esteem, now is a great time to get started. Why? With a number of advantages well-suited to the current environment, Invisalign is the perfect choice for treatment.
Fewer office visits, with continued monitoring
Start with fewer visits to the office. During the course of orthodontic treatment, an Invisalign patient will typically make 4 to 8 office visits, as compared to 12 to 18 visits for those with traditional braces. If you're concerned about being out in public during the COVID-19 pandemic, Invisalign is a great way to minimize the time you spend in the office.
Importantly, even though you'll make fewer office visits, you'll continue to be monitored regularly by a doctor. With Invisalign, virtual appointments work well in between office visits as a way to track progress and adjust treatment, if needed.
Doctor-directed care, a faster process
By working with an educated, trained and skilled orthodontist, a patient is receiving doctor-designed and directed care. This approach is far superior to do-it-yourself treatment, which includes only token participation by a professional. You wouldn't trust your physical health to an online provider; why would you consider it with something as important as your oral health?
In addition, Invisalign can often help you achieve your goals fastest. As compared to traditional braces, Invisalign has at most the same treatment duration, and in many cases, can successfully conclude the process faster.
Keep in mind, traditional braces remain an absolutely safe and effective way to straighten teeth. Since reopening in June, our offices are following all applicable health protocols to ensure appointments are conducted safely, and we have had no issues with in-office treatment. Still, we know some patients want to limit outside exposure, and if that's you, Invisalign is a great alternative.
The Invisalign advantage
Adirondack Orthodontics is one of the Capital Region's leading providers of Invisalign treatment, and if you're interested, we'd love to talk to you. We invite you to learn more about Invisalign by clicking here, or to set up a complimentary consultation by calling us at (518) 512-3001 or contacting us online. We look forward to seeing you soon!
---
Adirondack Orthodontics Opening Fifth Office
This article originally was posted in the Albany Business Journal
---
Before the Covid-19 pandemic hit, Dr. Sergey Berenshteyn had plans to open a fifth Adirondack Orthodontics office in Glens Falls. But when he had to temporarily close his four offices and furlough staff in mid-March, he put those plans on hold.
Now that he's reopened his offices and brought back all staff, he's moving forward with the plans.
Berenshteyn this Thursday is opening a new office in Glens Falls at 88 Broad St. The practice will have a suite of about 3,500 square feet in the building owned by Glens Falls Pediatric Consultants.
"I was always optimistic that things would recover, but I was a little bit concerned. But for now, we are recovering. June and July were good months," Berenshteyn said. "Now that we're reopened, I'm still optimistic, and I decided to keep going with my plans."
Berenshteyn, a 40 Under 40 honoree in 2019, opened his fourth office in mid-January in East Greenbush. The other offices are in Latham, Guilderland and Clifton Park.
He's already hired two clinical staff for the location. And a third orthodontist started about a month ago, allowing the practice to further open scheduling availability.
Existing patients are still regularly getting the checkups they need. At this point, new patient flow is down by about 15%-20%.
"I was concerned with what the patients' attitudes may be once we reopened. We took a lot of precautions to make our patients feel comfortable and keep our patients and our staff safe."
An expanded schedule has allowed more people to receive services, he said, especially now that many are working or attending school remotely.
"People actually have the time right now to come see an orthodontist. I think this is one of the reasons we've been able to bounce back."
---