5 Tips for Finding an Orthodontist
How to Choose an Orthodontist
Orthodontia is an investment, and as with any other investment, you'll want to make sure you're picking the best version possible. Choosing an orthodontist can seem intimidating, but we've compiled a list of what to look for in an orthodontist to make the process as easy as possible for you.
1. A Variety of Payment Options
While cost is obviously one of the most important considerations when pondering orthodontic treatment, it's much better in the long run to choose the right orthodontist rather than a cheap DIY alternative that could go wrong. Finding a practice that offers several different payment options and financing can ensure you can afford the treatment you need for yourself or your child. You should also select a participating provider for insurance purposes.
Learn more about your options at Adirondack Orthodontics here! We are a participating provider with most insurances and can work with you to create a customized payment plan.
2. Convenient Scheduling & Location
Most orthodontic treatments take place over the course of months, involving multiple visits to the office. Make sure your orthodontist is conveniently located near your home and that they offer flexible scheduling.
At Adirondack Orthodontics, we have offices in Albany, Clifton Park, Latham, East Greenbush, and Glens Falls, and each location has convenient scheduling options!
3. Education & Experience
If you're wondering how to choose a good orthodontist, experience and education are important indicators. Your orthodontist should be board certified and a member of the American Dental Association and the American Board of Orthodontics. They should also have years of experience and stay up to date on the latest industry advancements.
Here at Adirondack Orthodontics, we have Dr. Sergey Berenshteyn, the fully certified and experienced orthodontist you can trust in the Capital Region. We are also proud to be a Diamond Provider with Invisalign.
4. Consultation Options
The right orthodontist should offer you a free consultation, in which they assess your smile goals and tell you about what treatment plan will work best for you. After all, you deserve a chance to get to know the practice and learn more about your options before you're asked to pay for any service.
At Adirondack Orthodontics, we always offer free, no-obligation consultations! Click here to schedule yours today.
5. Trusted by the Community
One of the best ways to narrow down which orthodontist is right for you is to find one with a great reputation in the community. Online reviews make this easier than ever, and we have plenty to share with you! Take a look at what our patients are saying on our Reviews Page .
Once you've read over our suggestions on how to find a good orthodontist, call on the team at Adirondack Orthodontics. We understand that you want to know how to choose the right orthodontist because you take your dental health seriously, and we're here to offer trustworthy service and convenience you won't find elsewhere in the Capital Region.
Give us a call today or schedule a free consultation online.
---
Don't Pay the Price for Bad Orthodontia
Presenting Our New Express Aligner Treatment Program
The team at Adirondack Orthodontics is always searching for orthodontic solutions that fit your lifestyle and budget. Over the past few years, we've seen a troubling rise in the use of direct-to-consumer (DTC) orthodontic treatments that have caused severe oral health issues. To provide a better alternative, we're proud to offer our patients our Express Aligner Treatment program .
The Problem with One-Size-Fits-All
Some DTC treatments can create expensive oral health issues because they offer a one-size-fits-all approach. Unfortunately, one-size-fits-all just doesn't work with orthodontia. Teeth can only move insofar as the gums and bones allow, and everyone's situation is different. Aligners made without the supervision of a specialist can result in bite problems, tooth and gum loss, pain, and other structural issues with the bones and gums like TMD, traumatic occlusion, and periodontal breakdown.
Your smile is unique, and your treatment should be, too.
There's a Better Way
At Adirondack Orthodontics, we offer the convenience of discreet aligners delivered right to your door without making you roll the dice on your oral health. Our Express Aligner Treatment program starts with an initial consultation, so the treatment is tailored specifically to you.
All of our treatments are customized and supervised by a board-certified orthodontist who can provide remote consultations to ensure the treatment is progressing as it should. Whether you want rapid results or you care more about convenience and cost, our Express Aligner Treatment program will make you smile.
Save Money, Now & in the Future!
While you may be tempted by the price tag of some DTC aligners, the initial and long-term costs of our Express Aligner Treatment program are lower than you'd think. We can minimize the cost of your treatment with insurance, and we offer flexible payment plans that can be tailored to meet your needs. Plus, with our treatments, you won't have to visit an orthodontist to correct the issues caused by a DTC aligner!
Begin Your Treatment Today
Adirondack Orthodontics is a Diamond Invisalign Provider with five convenient locations throughout the Capital Region. We are also FSA/HSA approved. Whether you want an in-person or virtual appointment, we would be happy to help you schedule a consultation to get started on your Express Aligner Treatment treatment. Give us a call today to get started or request an appointment online!
---
New Year, New You!
Get the Smile You Want in 2021
Think back to the beginning of 2020 and everything that was on your list of resolutions. It doesn't require much reflection to realize that what you accomplished may look very different from what you had planned.
For many people, 2020 forced us to think about what's essential. As you take a moment to appreciate all you did to get through the year, remember to focus on what's truly important: the physical health and emotional well-being of you and your loved ones.
Start Fresh in 2021
As you make your New Year's resolutions this time around, pledge to put your health at the top of the list. At Adirondack Orthodontics, we know that the appearance and condition of your teeth directly affect your overall health and self-confidence. We can get 2021 off to a great start by putting together a plan to help you achieve the beautiful, healthy smile you've always wanted.
January is the perfect time to start, either with braces or Invisalign. This is the time of year when your available insurance benefits are at their highest. Similarly, your FSA/HSA account is full, meaning you can decide exactly how you want to spend it and make the most of your money.
Our caring, compassionate, and professional team is here to assist you in understanding the services you'll need to correct an underbite, overbite, missing teeth, overcrowded teeth, and more. After a complimentary examination and assessment, we'll even help you plan out the payments so they stay within your budget.
Love Your Smile, Love Your Experience
No matter what type of orthodontic treatment is right for you, Adirondack Orthodontics provides the Capital Region's top-rated services, and we're ready to begin when you are. Use our handy treatment planner to get started or contact us to speak with someone in person. We look forward to giving you the best experience possible and ensuring you have something to smile about in 2021!
---
Now is the Time to Spend Your FSA – Before It's Too Late
Here's a great way to get 2021 off on the right foot: be sure to maximize the use of your flexible spending account (FSA) before the new year starts! The last day to incur expenses with your 2020 FSA is December 31, 2020 – so if you currently have money in your FSA, you need to move quickly to ensure you put it to good use. At Adirondack Orthodontics, we can help you put those dollars to work, while also putting a plan in place to ensure affordable orthodontic treatment using your FSA in 2021.
If you already have an FSA, you know money in that account is set aside for medical costs within the calendar year. This money is generally provisioned on a "use it or lose it" basis, which means it doesn't roll over to the following year and should be used in its entirety. No matter how much money you have remaining in your FSA, our team can help you make the most of it by funding an ongoing or new orthodontic treatment.
Adirondack Orthodontics is known for working with patients to ensure they receive the orthodontic solutions they need while staying within their budgets. In addition to directing your FSA toward the cost of orthodontic treatment, you can always take advantage of discounts and offers we provide to make treatment even more affordable.
Whether you're a current patient or getting ready to begin your journey, Adirondack Orthodontics is here to make sure you realize your dream of achieving a beautiful and healthy smile. Call us today to schedule a consultation, or request an appointment through our website, and let us put you on the path to success. We're certain you'll Love Your Smile and Love Your Experience!
---
Important Information from Adirondack Orthodontics During the Coronavirus (COVID-19) Pandemic
Flu Season Meets Coronavirus (COVID-19):
Here's How Adirondack Orthodontics is Keeping You Safe
Last Updated on 10/22/20
The fall foliage is dazzling, the mums and pumpkins are cheerful, and the cider donuts are delicious. Autumn is a wonderful time of year in the Capital Region, and we hope you and your family are enjoying all it has to offer.
At the same time, we know that winter is right around the corner, and with it comes colder temperatures, ice and snow, and cold and flu season. This year, as the coronavirus (COVID-19) pandemic presses on, it is more important than ever to protect ourselves from the spread of contagious illness.
At Adirondack Orthodontics, we want to reassure you that the health and safety of our patients and families, as well as our staff and their families, is always our highest priority. As you know, we have taken significant steps to provide a safe environment for care and treatment. Now, with the combination of COVID and flu season, we are reinforcing and strengthening our commitment to doing everything possible to keep you safe:
Members of our professional team, including both administrative and clinical staff, are receiving flu vaccinations. We highly recommend and encourage all patients and families to get flu shots, as well.
We have purchased and installed upgraded air purification systems in each of our offices to ensure the air is continuously filtered and cleaned throughout the day.
We continue to screen all patients as they arrive at the office for treatment, and to ask that any patient experiencing symptoms call to reschedule their appointment.
With the arrival of flu season, we are doing even more to minimize the traffic in our offices. This includes scheduling additional time between appointments, and asking parents/guardians to help us by checking their children in and then waiting in the car until treatment is completed. Our goal is to keep the waiting room as empty as possible at all times.
As a reminder, we have not, and will not, institute or increase any patient fees to cover costs associated with enhanced COVID-19 protocols, which are listed in more detail below. We consider this to be our responsibility as a healthcare provider, and we take it seriously.
It is difficult to put into words how much your cooperation, support and encouragement have meant to us during this challenging time. We are extremely fortunate to care for you, your amazing children and families, and privileged to be part of your journey to a beautiful, healthy smile.
Thank you for your trust, confidence and friendship, and we look forward to seeing you and your family soon!
Yours in Good Health,
Dr. Sergey Berenshteyn
---
Times Union's 2020 Best of the Capital Region
The numbers don't lie! We're honored to have been named to the Times Union's 2020 "Best of the Capital Region" list in the best dentist/orthodontist category. Thank you to all of our fabulous patients and wonderful families who helped make this possible.
For years, Adirondack Orthodontics has helped residents of the Capital Region attain their goal of having an incredible smile. With five locations in Albany, Glens Falls, Latham, East Greenbush, and Clifton Park, we help ensure the entire region has the service that they deserve. Because of the best patients, best families, and the best staff, Adirondack Orthodontics is a great place to achieve a healthy, beautiful smile!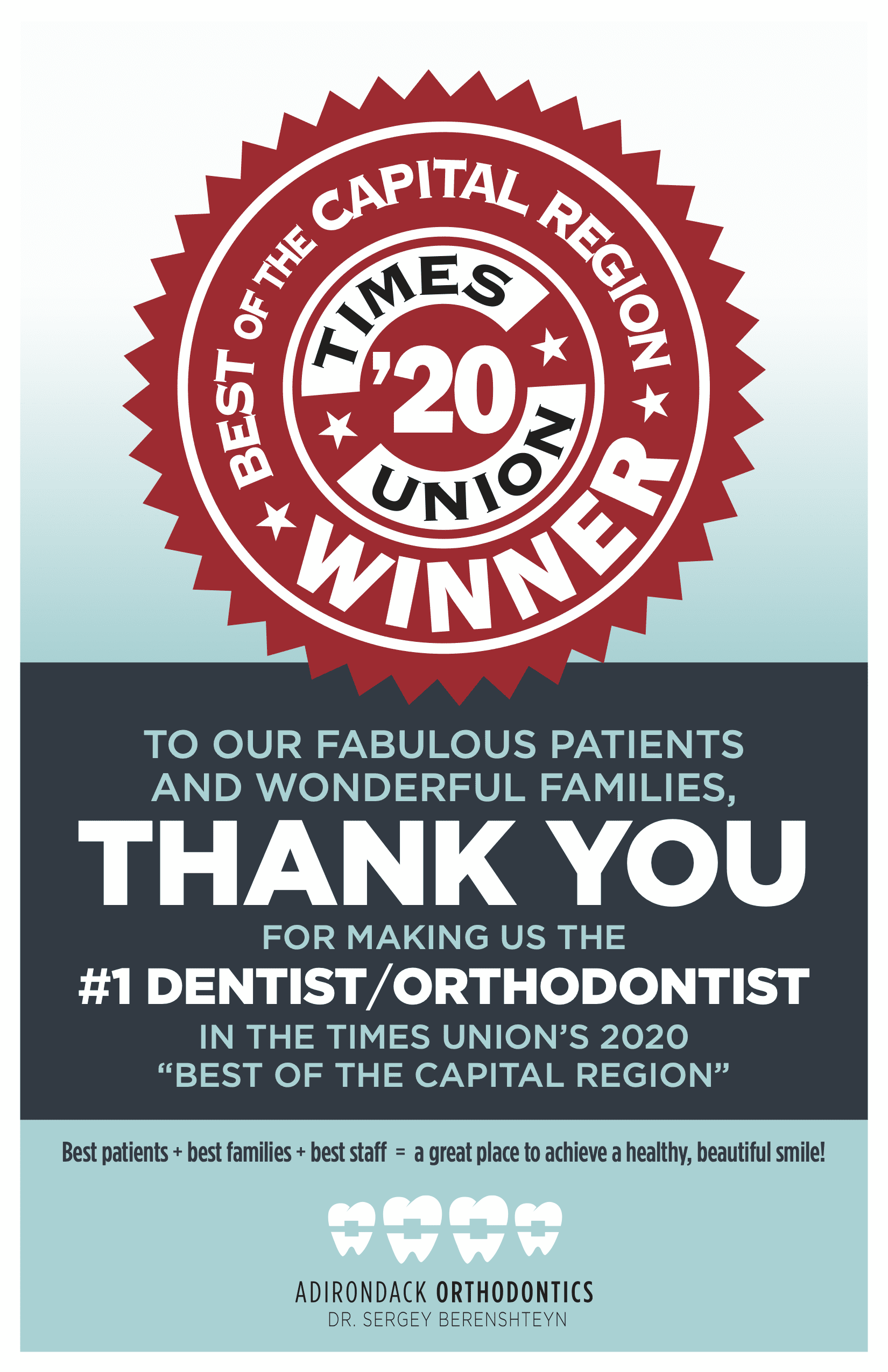 ---
Considering Invisalign? There's Never Been a Better Time
If you've dreamed of straightening your smile, improving your health, and raising your self-esteem, now is a great time to get started. Why? With a number of advantages well-suited to the current environment, Invisalign is the perfect choice for treatment.
Fewer office visits, with continued monitoring
Start with fewer visits to the office. During the course of orthodontic treatment, an Invisalign patient will typically make 4 to 8 office visits, as compared to 12 to 18 visits for those with traditional braces. If you're concerned about being out in public during the COVID-19 pandemic, Invisalign is a great way to minimize the time you spend in the office.
Importantly, even though you'll make fewer office visits, you'll continue to be monitored regularly by a doctor. With Invisalign, virtual appointments work well in between office visits as a way to track progress and adjust treatment, if needed.
Doctor-directed care, a faster process
By working with an educated, trained and skilled orthodontist, a patient is receiving doctor-designed and directed care. This approach is far superior to do-it-yourself treatment, which includes only token participation by a professional. You wouldn't trust your physical health to an online provider; why would you consider it with something as important as your oral health?
In addition, Invisalign can often help you achieve your goals fastest. As compared to traditional braces, Invisalign has at most the same treatment duration, and in many cases, can successfully conclude the process faster.
Keep in mind, traditional braces remain an absolutely safe and effective way to straighten teeth. Since reopening in June, our offices are following all applicable health protocols to ensure appointments are conducted safely, and we have had no issues with in-office treatment. Still, we know some patients want to limit outside exposure, and if that's you, Invisalign is a great alternative.
The Invisalign advantage
Adirondack Orthodontics is one of the Capital Region's leading providers of Invisalign treatment, and if you're interested, we'd love to talk to you. We invite you to learn more about Invisalign by clicking here, or to set up a complimentary consultation by calling us at (518) 512-3001 or contacting us online. We look forward to seeing you soon!
---
Adirondack Orthodontics Opening Fifth Office
This article originally was posted in the Albany Business Journal
---
Before the Covid-19 pandemic hit, Dr. Sergey Berenshteyn had plans to open a fifth Adirondack Orthodontics office in Glens Falls. But when he had to temporarily close his four offices and furlough staff in mid-March, he put those plans on hold.
Now that he's reopened his offices and brought back all staff, he's moving forward with the plans.
Berenshteyn this Thursday is opening a new office in Glens Falls at 88 Broad St. The practice will have a suite of about 3,500 square feet in the building owned by Glens Falls Pediatric Consultants.
"I was always optimistic that things would recover, but I was a little bit concerned. But for now, we are recovering. June and July were good months," Berenshteyn said. "Now that we're reopened, I'm still optimistic, and I decided to keep going with my plans."
Berenshteyn, a 40 Under 40 honoree in 2019, opened his fourth office in mid-January in East Greenbush. The other offices are in Latham, Guilderland and Clifton Park.
He's already hired two clinical staff for the location. And a third orthodontist started about a month ago, allowing the practice to further open scheduling availability.
Existing patients are still regularly getting the checkups they need. At this point, new patient flow is down by about 15%-20%.
"I was concerned with what the patients' attitudes may be once we reopened. We took a lot of precautions to make our patients feel comfortable and keep our patients and our staff safe."
An expanded schedule has allowed more people to receive services, he said, especially now that many are working or attending school remotely.
"People actually have the time right now to come see an orthodontist. I think this is one of the reasons we've been able to bounce back."
---
The Importance of Retainers
After investing in your straight, healthy smile, it makes sense to do everything you can to keep it. Retention is just as important as the rest of the process, and this is what a retainer is for. Your retainer is made specifically for you, custom-designed to fit your teeth exactly and keep them in the desired position. Once your orthodontic treatment is complete, wearing your retainer at night, and keeping it clean and cared for, is essential to preventing your teeth from moving.
Occasional wear and tear is normal, as is outgrowing a retainer. No matter the circumstances you find yourself in, the team at Adirondack Orthodontics will be there to help keep you on track.
Has your retainer worn out?
Retainers can last for many years, but wear and tear does occur. If you wear your retainer every night and it still fits you, we can easily create a duplicate retainer.
Does your retainer no longer fit, but you're still happy with your smile?
Maybe you've forgotten to wear your retainer a few too many times. If this is the case, your teeth may have moved. While this is not ideal, we can create a new retainer that fits your mouth. Please don't attempt to use your current retainer if it doesn't fit; it's better to simply have us create a new retainer that suits the current shape of your mouth.
Does your retainer no longer fit, and is your smile not as straight and even as you'd like it to be?
Failing to wear a retainer for a long time may mean that you need help getting your teeth back to where they were. If you have an extreme overbite or underbite once again, or if your teeth are crooked, you may need to schedule an appointment to reevaluate your treatment plan. Fortunately, you probably won't be starting from scratch.
While we always recommend faithfully wearing your retainer once your treatment is complete, we are here to help with fixing your retainer or recommending the services you need to achieve a beautiful smile once again.
Contact Adirondack Orthodontics for assistance with all of your retainer and orthodontic needs; we would be delighted to tell you more and help you begin or continue your journey to the smile you've always wanted.
---
Dr. Garrison Copeland Joins Adirondack Orthodontics
Adirondack Orthodontics, a locally owned and operated orthodontic practice that serves thousands of Capital Region patients and families, today announced that Dr. Garrison Copeland has joined its growing team of skilled, caring, and compassionate orthodontists.
Dr. Copeland previously practiced orthodontics for seven years in his hometown of Cleveland, Ohio, where he was responsible for helping more than 3,000 patients achieve healthy, beautiful smiles. For the past two years, he chose to continue his training at BronxCare Health Systems, where he focused on cosmetic and implant dentistry and was named chief resident. This year, amid the COVID-19 pandemic, he volunteered in the hospital's Family Medicine Department, assisting COVID-19 patients with treatment and recovery.
"We are delighted to welcome Dr. Copeland to our talented and caring professional team," said Dr. Sergey Berenshteyn, who founded the practice in 2012. "Garrison's exceptional skills as an orthodontist, combined with his commitment to providing personalized and compassionate care, make him a perfect fit with Adirondack Orthodontics. As a practice that is proud to be locally owned and operated, we look forward to enhancing our mission of helping children and adults in our community lead healthier, more confident, and more fulfilling lives."
Growing up with severely misaligned teeth, Dr. Copeland understood at an early age the significance of having a healthy and aesthetic smile. Determined to help others facing similar circumstances, he pursued a career in orthodontics. Dr. Copeland earned his bachelor's degree from Morehouse College in Atlanta, Georgia where he was inducted into the Phi Beta Kappa Honors Society. He went on to earn his Doctorate of Dental Surgery at Howard University in Washington, DC and upon graduating was inducted into the Omicron Kappa Upsilon Honor Society. He completed post-graduate orthodontic training at Case Western Reserve University in Chicago, Illinois.
One of the Capital Region's largest locally owned and operated orthodontic practices, Adirondack Orthodontics serves more than 2,000 patients annually. Dr. Copeland joins Dr. Berenshteyn, Dr. Larissa Takhalova, and a staff of 15 working at offices in Albany, Latham, East Greenbush, and Clifton Park.
Adirondack Orthodontics' state-of-the-art facilities include the latest high-tech equipment, such as the iTero Intraoral Scanner, which replaces alginate molds with digital impressions. Its patient-friendly benefits include participation with most major insurances; flexible in-office payment plans; paperless communication; and the ability to receive treatment at any of its four locations. Adirondack Orthodontics is open and staffed weekdays from 8 a.m. to 6 p.m., offers evening hours, and one Saturday each month.
---
Book Your Free Consultation Today!