Voted "Best Orthodontist" in 2023
The Fourth Year in a Row!
Thank you to all our amazing patients, we have once again been recognized as the winner of "Best Orthodontist" in the Capital Region by Times Union for 2023! We're proud to have earned this prestigious title for the fourth year in a row because it shows us the impact that we've had on families in the communities we serve. We have been grateful for the support of our patients as we have expanded to bring excellent care closer to home, now with six conveniently-located orthodontic offices in the Capital Region.
Why Patients Choose Our Team
We've become the top orthodontist in the region for many reasons, but it all starts with the first in-person consultation and evaluation. Patients can visit whichever of our six locations is most convenient for them. Here's how it works:
A board-certified orthodontist will design your treatment plan. Your first free appointment will include complimentary X-rays, a 3D scan, and a free orthodontic evaluation. Your orthodontist will design your smile plan based on your needs.

Our team will customize a payment plan for you. After evaluating your insurance details and any FSA or HSA information, we can tell you about our discounts for teachers, military members, and families. We can then create a payment plan that works with your budget.

You'll start treatment immediately! In many cases, you can start your treatment the same day! You shouldn't have to wait another moment to start your orthodontic journey and achieve the smile of your dreams.
We are dedicated to working with you to ensure your customized treatment is accessible to you, so you're sure to get the results you need.
Find Out for Yourself
See why everyone from East Greenbush to Schenectady and beyond is raving about their experience with our team. Call or text us today to schedule your free consultation! We would be happy to tell you more about how braces, Invisalign, or one of our other orthodontic services could give you your ideal smile.
---
New Adirondack Orthodontics Schenectady Location!
Our 6th office opens at Dr. DeLuke's former practice.
Dr. Mike DeLuke of DeLuke Orthodontics knew he wanted to be a dentist at age 13, fell in love with orthodontics in dental school, and has been transforming lives at his Schenectady office building for nearly 20 years. Dr. DeLuke will be retiring from his clinical practice this summer, potentially creating a significant void in orthodontic services in the Schenectady area. 
But Dr. Sergey Berenshteyn of Adirondack Orthodontics is opening a sixth branch at Dr. DeLuke's former location, continuing the legacy of affordable, convenient, and customized care. Having helped Schenectady smile for many years, Dr. DeLuke took a moment to reflect on his mission, what he's learned, and his plans. Let's take a look at what he had to say!
How'd you fall in love with orthodontics?
Even after almost 20 years, I remain humbled by the power to deliver a smile that fills a person with confidence, lights up a room, and, nowadays, looks great on social media! I love when previous patients send me pictures of their major life events with a note saying how much they love their teeth and their smile. 
Beyond appearances, we help young faces grow properly, to accommodate the adult teeth, and help them breathe through their nose instead of through their mouth. This is often overlooked but it provides a tremendous benefit to overall health.
I do this using only braces and wires (not expanders or headgear) when patients are 7-9 years old. At that age, the bones of the face are super-pliable so very light forces can achieve tremendous results. In addition, it almost always prevents the need to extract adult teeth which is awesome.
What's been different about your practice and why?
I've specialized in treating younger patients with less invasive techniques than has traditionally been done. Using low-radiation 3D imaging along with a thorough clinical exam, I can detect underlying issues in facial growth and airway development. This allows me to both make the appropriate referral(s) to the ENT and/or allergist and, if indicated, use my minimally invasive braces and wires technique to normalize the growth of the jaws and face. The resulting transformation is mind-blowing. It dramatically improves the patient's quality of life.
What's next for you?
I'm starting DeLuke Orthodontic Coaching, with the mission of advancing the specialty, offering clinical and practice management courses, blogs, podcasts, and monthly case reviews to my orthodontic colleagues. Minimally invasive Phase I/Interceptive treatments are not being taught to young docs or performed by older docs. It will be an uphill climb to convince my colleagues to change their approach, but I'm ready and I'm super excited to share what I have learned.
Can past patients still get in touch?
I will be keeping my practice email, smiles@delukeortho.com, open indefinitely, and I'm working with a third-party lab to make retainers for patients who have had a previous digital scan taken at my office. If a previous patient needs new retainers they can send us an email and we will instruct you regarding how to proceed.
I am super excited for Dr. Berenshteyn and his associates to be moving into my facility! I have put my heart and soul into the Union Street property to customize it as an orthodontic office and I'm thrilled that it's going to remain one. I'm also very happy for the community. One concern I had in retiring was the void in orthodontic services in Schenectady County that would result, so it's great that Adirondack Ortho is going to come in and fill that void. 
Additional Info About the Schenectady Location
Adirondack Orthodontics is honored to continue Dr. DeLuke's legacy of providing quality orthodontic care in the Schenectady area. For those who are unfamiliar with Dr. DeLuke's practice, you can find us located at 1327 Union St. Schenectady, NY 12308. If you would like to call and set up an appointment, our phone number is 518-579-7250. We are thrilled to start seeing your smiles! 
---
Important Information from Adirondack Orthodontics During the Coronavirus (COVID-19) Pandemic
Last Updated on 4/1/22
Thank you for continuing to trust us with your care, and thank you for doing your part in keeping our community safe and healthy as well by wearing masks, staying home, and waiting in the car before your appointments. It means the world to us that our patients have relied on us to keep them safe during the COVID-19 pandemic, and we are grateful to partner with you in these efforts. We would like to take this opportunity to reassure you that the health and safety of our patients and families, as well as our staff and their families, are always our highest priorities.
Per the latest determination from the New York State Department of Health (March 2, 2022), visitors to healthcare facilities who are "two years of age and older and able to medically tolerate a face covering/mask shall be required to wear a face covering/mask in health care facilities, regardless of vaccination status, subject to applicable CDC exceptions, and until this determination is modified or rescinded." In accordance with this, Adirondack Orthodontics will be following the state mandate and requiring all such visitors to our office to continue to wear masks indoors.
Masks must cover the nose and mouth, and acceptable masks include cloth masks, surgical masks, and N-95 respirators. If you arrive without a mask, we will be happy to provide a surgical mask for you.
We will take every step needed to keep you, your families, and our staff members safe, and we will update this page as new information and state requirements emerge. Please let us know if you have any questions.
---
Important Information from Adirondack Orthodontics During the Coronavirus (COVID-19) Pandemic
Flu Season Meets Coronavirus (COVID-19):
Here's How Adirondack Orthodontics is Keeping You Safe
Last Updated on 10/22/20
The fall foliage is dazzling, the mums and pumpkins are cheerful, and the cider donuts are delicious. Autumn is a wonderful time of year in the Capital Region, and we hope you and your family are enjoying all it has to offer.
At the same time, we know that winter is right around the corner, and with it comes colder temperatures, ice and snow, and cold and flu season. This year, as the coronavirus (COVID-19) pandemic presses on, it is more important than ever to protect ourselves from the spread of contagious illness.
At Adirondack Orthodontics, we want to reassure you that the health and safety of our patients and families, as well as our staff and their families, is always our highest priority. As you know, we have taken significant steps to provide a safe environment for care and treatment. Now, with the combination of COVID and flu season, we are reinforcing and strengthening our commitment to doing everything possible to keep you safe:
Members of our professional team, including both administrative and clinical staff, are receiving flu vaccinations. We highly recommend and encourage all patients and families to get flu shots, as well.
We have purchased and installed upgraded air purification systems in each of our offices to ensure the air is continuously filtered and cleaned throughout the day.
We continue to screen all patients as they arrive at the office for treatment, and to ask that any patient experiencing symptoms call to reschedule their appointment.
With the arrival of flu season, we are doing even more to minimize the traffic in our offices. This includes scheduling additional time between appointments, and asking parents/guardians to help us by checking their children in and then waiting in the car until treatment is completed. Our goal is to keep the waiting room as empty as possible at all times.
As a reminder, we have not, and will not, institute or increase any patient fees to cover costs associated with enhanced COVID-19 protocols, which are listed in more detail below. We consider this to be our responsibility as a healthcare provider, and we take it seriously.
It is difficult to put into words how much your cooperation, support and encouragement have meant to us during this challenging time. We are extremely fortunate to care for you, your amazing children and families, and privileged to be part of your journey to a beautiful, healthy smile.
Thank you for your trust, confidence and friendship, and we look forward to seeing you and your family soon!
Yours in Good Health,
Dr. Sergey Berenshteyn
---
Adirondack Orthodontics Opens Its Fifth Location On Broad Street In Glens Falls
This post originally appeared in the Saratoga Business Journal on October 15th. Written by Jennifer Farnsworth.
---
Opening a fifth location seemed like a natural progression for Adirondack Orthodontics, a locally owned and operated orthodontic practice that serves patients across the Capital Region.
The newest office at 88 Broad St. in Glens Falls is now part of the largest locally owned and operated practices in the Capital District region.
As the founder of the practice, Dr. Sergey Berenshteyn said he had many patients travelling from northern Saratoga and Warren counties down to his Clifton Park office. Opening up a spot that was closer for those travelling south down the Northway for care seemed like an obvious decision to make.
"I knew we already had a client base in that area and I knew going to Glens Falls would not only make it easier for those patients but it would also allow for us to bring in new patients in the more northern areas," said Berenshteyn.
Berenshteyn said the new location needed some renovations but nothing major. The office is part of a suite that opened up and was recommended to him by a friend who was already there practicing pediatric dentistry.
"The opportunity for the perfect location opened up and so we were confident that it would be a good match. We are thrilled to offer caring and compassionate orthodontic treatment to children, adults and families in the Glens Falls area," he said.
The March shutdown of orthodontic practices due to COVID-19 was something that Berenshteyn used as an opportunity to research the opening of a fifth location, as well as how to safely be able to provide care to his patients once the closure ended.
"Luckily in dentistry we already have so many safety protocols in place so we felt confident in our ability to provide care in a safe way. Through a number of safety controls, staff training, adding purifiers and filters, and restructuring the number of patients we have in the office at a time, we feel confident in our ability to provide safe care," he said.
Berenshteyn credits some of his success to his philosophy of providing individualized personal care when assessing each patient. He said this is the best way, he believes, to develop a unique personal health and aesthetic plan.
He earned his Doctor of Dental Surgery (DDS) degree from Stony Brook School of Dental Medicine. He completed an additional year of general practice residency, followed by two years of post-graduate orthodontic training at the University of Detroit Mercy in Michigan.
Adirondack Orthodontics has other offices in Albany, Latham, East Greenbush and Clifton Park. The Glens Falls office can be reached at (518) 631-9771.
---
Times Union's 2020 Best of the Capital Region
The numbers don't lie! We're honored to have been named to the Times Union's 2020 "Best of the Capital Region" list in the best dentist/orthodontist category. Thank you to all of our fabulous patients and wonderful families who helped make this possible.
For years, Adirondack Orthodontics has helped residents of the Capital Region attain their goal of having an incredible smile. With five locations in Albany, Glens Falls, Latham, East Greenbush, and Clifton Park, we help ensure the entire region has the service that they deserve. Because of the best patients, best families, and the best staff, Adirondack Orthodontics is a great place to achieve a healthy, beautiful smile!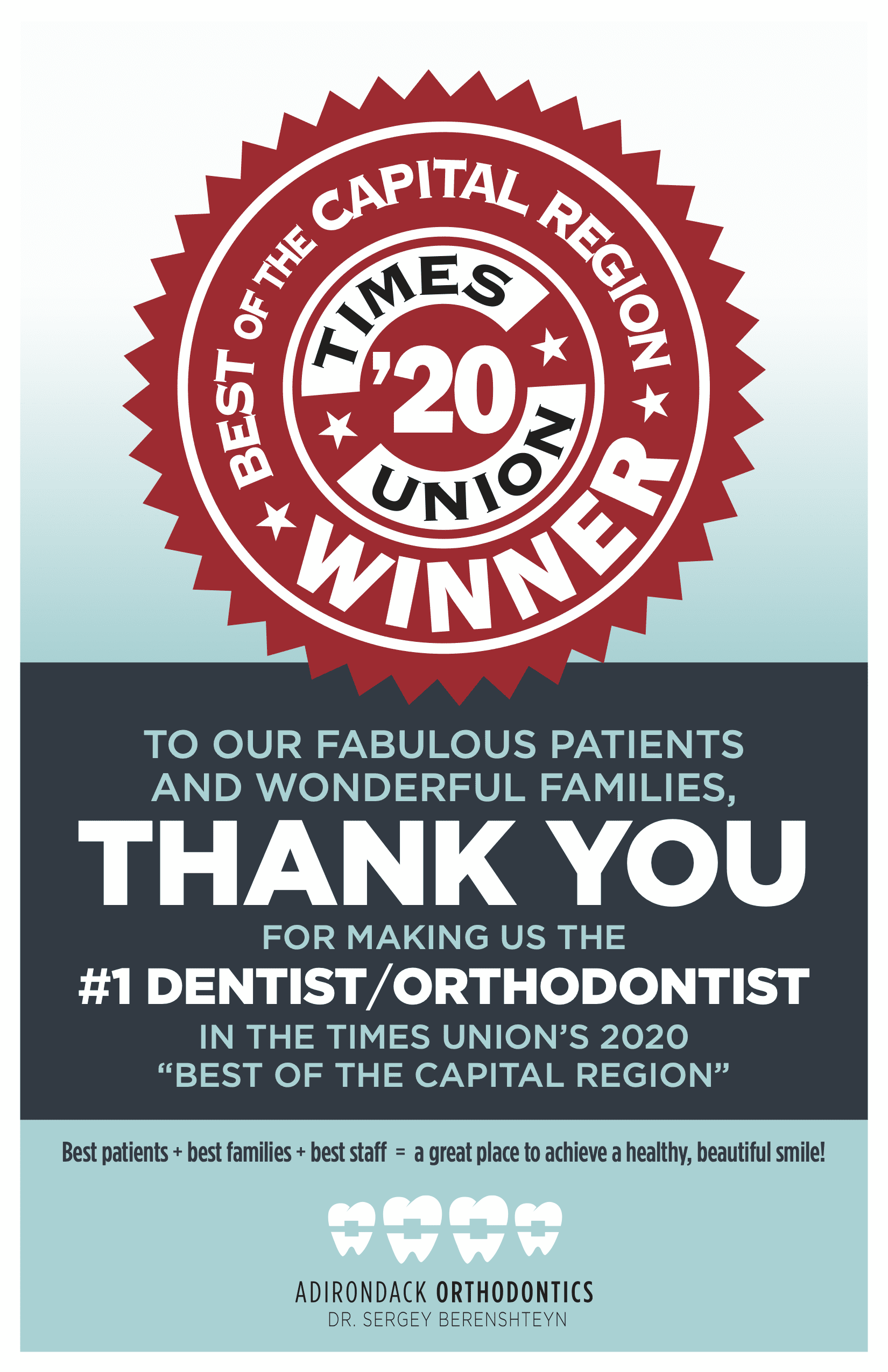 ---
How the COVID-19 Crisis Has Transformed Dental Visits
This post originally appeared in the September/October 2020 Capital Region Living Magazine. Written by Beth Krueger.
---
Remember when your dentist's office would call you before an appointment, reminding you to arrive on a predetermined date and time with your insurance card in hand? On that date, you would've taken a seat in the busy waiting room next to other patients. Now because of the COVID-19 crisis, that process is no more. So, what are dental appointments like nowadays?
Luckily, dental professionals who work in offices or clinics are trained in infection-control protocols (such as sterilizing equipment, sanitizing surfaces, and changing disposable items) anyway, so they were a step ahead of the game when COVID hit. Of course, additional procedures have since been put in place to protect both the onsite dental team and its patients. In New York State, for example, dental offices could only perform emergency care at the outset of the pandemic but were then authorized to fully reopen on June 1.
"Dentists have a long history of infection control and take extreme care to assure the safety of patients, doctors, and staff," says New York State Dental Association Executive Director Mark J. Feldman. "With the experience, knowledge, and equipment gained over the past several months, dentists are well-prepared to safely serve their patients. We encourage you to visit your dentist, as your oral health is vital to your overall health."
Dr. Sergey Berenshteyn, owner of Adirondack Orthodontics—which has offices in Albany, Latham, Clifton Park, East Greenbush, and Glens Falls—notes that his dental service "has always adhered to all relevant infection control protocols and procedures and required all clinical staff to do the same. Out of an abundance of caution and in keeping the health and safety of our patients and staff first and foremost, we have further expanded those efforts during the pandemic."
Whereas that call you used to get before your appointment may have asked you if there were any updates to your medical history since your last visit, these days you might be asked questions about your current health, whether you've been exposed to (or tested for) the COVID-19 virus or if you've taken any recent trips. You also may be reminded to wear a mask while in the office except (obviously) during your dental procedure. The office may even ask you to call when you arrive in the parking lot, so it can limit the number of patients it has onsite at one time.
Now, imagine that you're in your dental office. It's entirely possible that you could be asked to use the available hand sanitizer as you enter, have your temperature taken, or review any pre-visit questions. You could also be handed paperwork on a clipboard, along with a sanitized pen, that you either take with you or deposit in a cup after use. Those magazines, toys, and other items you might've handled months ago in the waiting room? They're likely all gone. And there might also be fewer chairs or some space cordoned off between chairs to promote social distancing. The dental team itself could be wearing different masks, face shields, and gowns, depending on what procedure you're in for. "We are scheduling additional time between appointments to minimize the number of patients in the office at any one time, and we ask that child patients be accompanied by only one parent or guardian," says Dr. Berenshteyn. "We require all patients and family members coming into the office to wear a mask and follow social distancing guidelines, and our waiting areas are closed to maintain proper social distancing. Parents and guardians check-in at the reception desk with their child, make any payments due and schedule upcoming appointments, and then return to their cars during treatment. We call them when treatment is complete to return and pick up their child."
Adirondack Orthodontics also conducts daily temperature and health checks of both administrative and clinical staff and requires all staff to wear protective gear, including masks and gloves, in accordance with local, state, and federal health guidelines. Treatment chairs in the operatory have been set to ensure social distancing. Cleaning is done between appointments, and the office is thoroughly disinfected, as per appropriate guidelines.
So, the next time you make an appointment to go see your dentist, know that the process will be a little bit different, but you'll get the same great care you always did. And that's a reason to smile.
---
Adirondack Orthodontics Opening Fifth Office
This article originally was posted in the Albany Business Journal
---
Before the Covid-19 pandemic hit, Dr. Sergey Berenshteyn had plans to open a fifth Adirondack Orthodontics office in Glens Falls. But when he had to temporarily close his four offices and furlough staff in mid-March, he put those plans on hold.
Now that he's reopened his offices and brought back all staff, he's moving forward with the plans.
Berenshteyn this Thursday is opening a new office in Glens Falls at 88 Broad St. The practice will have a suite of about 3,500 square feet in the building owned by Glens Falls Pediatric Consultants.
"I was always optimistic that things would recover, but I was a little bit concerned. But for now, we are recovering. June and July were good months," Berenshteyn said. "Now that we're reopened, I'm still optimistic, and I decided to keep going with my plans."
Berenshteyn, a 40 Under 40 honoree in 2019, opened his fourth office in mid-January in East Greenbush. The other offices are in Latham, Guilderland and Clifton Park.
He's already hired two clinical staff for the location. And a third orthodontist started about a month ago, allowing the practice to further open scheduling availability.
Existing patients are still regularly getting the checkups they need. At this point, new patient flow is down by about 15%-20%.
"I was concerned with what the patients' attitudes may be once we reopened. We took a lot of precautions to make our patients feel comfortable and keep our patients and our staff safe."
An expanded schedule has allowed more people to receive services, he said, especially now that many are working or attending school remotely.
"People actually have the time right now to come see an orthodontist. I think this is one of the reasons we've been able to bounce back."
---
Dr. Garrison Copeland Joins Adirondack Orthodontics
Adirondack Orthodontics, a locally owned and operated orthodontic practice that serves thousands of Capital Region patients and families, today announced that Dr. Garrison Copeland has joined its growing team of skilled, caring, and compassionate orthodontists.
Dr. Copeland previously practiced orthodontics for seven years in his hometown of Cleveland, Ohio, where he was responsible for helping more than 3,000 patients achieve healthy, beautiful smiles. For the past two years, he chose to continue his training at BronxCare Health Systems, where he focused on cosmetic and implant dentistry and was named chief resident. This year, amid the COVID-19 pandemic, he volunteered in the hospital's Family Medicine Department, assisting COVID-19 patients with treatment and recovery.
"We are delighted to welcome Dr. Copeland to our talented and caring professional team," said Dr. Sergey Berenshteyn, who founded the practice in 2012. "Garrison's exceptional skills as an orthodontist, combined with his commitment to providing personalized and compassionate care, make him a perfect fit with Adirondack Orthodontics. As a practice that is proud to be locally owned and operated, we look forward to enhancing our mission of helping children and adults in our community lead healthier, more confident, and more fulfilling lives."
Growing up with severely misaligned teeth, Dr. Copeland understood at an early age the significance of having a healthy and aesthetic smile. Determined to help others facing similar circumstances, he pursued a career in orthodontics. Dr. Copeland earned his bachelor's degree from Morehouse College in Atlanta, Georgia where he was inducted into the Phi Beta Kappa Honors Society. He went on to earn his Doctorate of Dental Surgery at Howard University in Washington, DC and upon graduating was inducted into the Omicron Kappa Upsilon Honor Society. He completed post-graduate orthodontic training at Case Western Reserve University in Chicago, Illinois.
One of the Capital Region's largest locally owned and operated orthodontic practices, Adirondack Orthodontics serves more than 2,000 patients annually. Dr. Copeland joins Dr. Berenshteyn, and a staff of 15 working at offices in Albany, Latham, East Greenbush, and Clifton Park.
Adirondack Orthodontics' state-of-the-art facilities include the latest high-tech equipment, such as the iTero Intraoral Scanner, which replaces alginate molds with digital impressions. Its patient-friendly benefits include participation with most major insurances; flexible in-office payment plans; paperless communication; and the ability to receive treatment at any of its four locations. Adirondack Orthodontics is open and staffed weekdays from 8 a.m. to 6 p.m., offers evening hours, and one Saturday each month.
---
Getting Back To Work
The shutdown resulting from the Covid-19 pandemic caused a lot of disruption in our daily lives. The efforts made by Dr. Berenshteyn and the team at Adirondack Orthodontics helped maintain treatment for thousands of patients throughout the Capital Region. The Post Star recently featured how the team was able to adapt to ensure that our patients were getting the best possible care.
---