Times Union's 2020 Best of the Capital Region
The numbers don't lie! We're honored to have been named to the Times Union's 2020 "Best of the Capital Region" list in the best dentist/orthodontist category. Thank you to all of our fabulous patients and wonderful families who helped make this possible.
For years, Adirondack Orthodontics has helped residents of the Capital Region attain their goal of having an incredible smile. With five locations in Albany, Glens Falls, Latham, East Greenbush, and Clifton Park, we help ensure the entire region has the service that they deserve. Because of the best patients, best families, and the best staff, Adirondack Orthodontics is a great place to achieve a healthy, beautiful smile!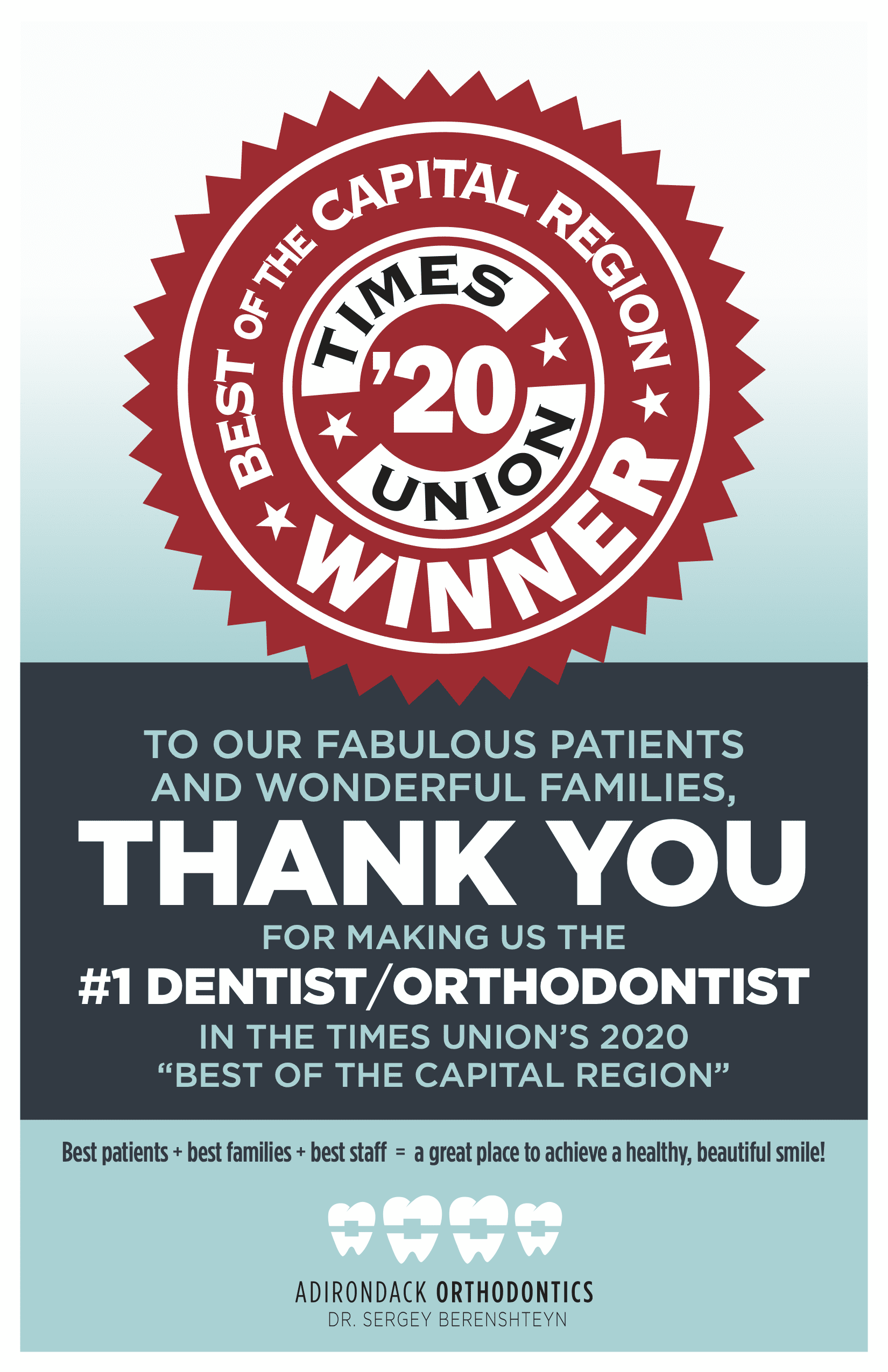 ---
Considering Invisalign? There's Never Been a Better Time
If you've dreamed of straightening your smile, improving your health, and raising your self-esteem, now is a great time to get started. Why? With a number of advantages well-suited to the current environment, Invisalign is the perfect choice for treatment.
Fewer office visits, with continued monitoring
Start with fewer visits to the office. During the course of orthodontic treatment, an Invisalign patient will typically make 4 to 8 office visits, as compared to 12 to 18 visits for those with traditional braces. If you're concerned about being out in public during the COVID-19 pandemic, Invisalign is a great way to minimize the time you spend in the office.
Importantly, even though you'll make fewer office visits, you'll continue to be monitored regularly by a doctor. With Invisalign, virtual appointments work well in between office visits as a way to track progress and adjust treatment, if needed.
Doctor-directed care, a faster process
By working with an educated, trained and skilled orthodontist, a patient is receiving doctor-designed and directed care. This approach is far superior to do-it-yourself treatment, which includes only token participation by a professional. You wouldn't trust your physical health to an online provider; why would you consider it with something as important as your oral health?
In addition, Invisalign can often help you achieve your goals fastest. As compared to traditional braces, Invisalign has at most the same treatment duration, and in many cases, can successfully conclude the process faster.
Keep in mind, traditional braces remain an absolutely safe and effective way to straighten teeth. Since reopening in June, our offices are following all applicable health protocols to ensure appointments are conducted safely, and we have had no issues with in-office treatment. Still, we know some patients want to limit outside exposure, and if that's you, Invisalign is a great alternative.
The Invisalign advantage
Adirondack Orthodontics is one of the Capital Region's leading providers of Invisalign treatment, and if you're interested, we'd love to talk to you. We invite you to learn more about Invisalign by clicking here, or to set up a complimentary consultation by calling us at (518) 512-3001 or contacting us online. We look forward to seeing you soon!
---
How the COVID-19 Crisis Has Transformed Dental Visits
This post originally appeared in the September/October 2020 Capital Region Living Magazine. Written by Beth Krueger.
---
Remember when your dentist's office would call you before an appointment, reminding you to arrive on a predetermined date and time with your insurance card in hand? On that date, you would've taken a seat in the busy waiting room next to other patients. Now because of the COVID-19 crisis, that process is no more. So, what are dental appointments like nowadays?
Luckily, dental professionals who work in offices or clinics are trained in infection-control protocols (such as sterilizing equipment, sanitizing surfaces, and changing disposable items) anyway, so they were a step ahead of the game when COVID hit. Of course, additional procedures have since been put in place to protect both the onsite dental team and its patients. In New York State, for example, dental offices could only perform emergency care at the outset of the pandemic but were then authorized to fully reopen on June 1.
"Dentists have a long history of infection control and take extreme care to assure the safety of patients, doctors, and staff," says New York State Dental Association Executive Director Mark J. Feldman. "With the experience, knowledge, and equipment gained over the past several months, dentists are well-prepared to safely serve their patients. We encourage you to visit your dentist, as your oral health is vital to your overall health."
Dr. Sergey Berenshteyn, owner of Adirondack Orthodontics—which has offices in Albany, Latham, Clifton Park, East Greenbush, and Glens Falls—notes that his dental service "has always adhered to all relevant infection control protocols and procedures and required all clinical staff to do the same. Out of an abundance of caution and in keeping the health and safety of our patients and staff first and foremost, we have further expanded those efforts during the pandemic."
Whereas that call you used to get before your appointment may have asked you if there were any updates to your medical history since your last visit, these days you might be asked questions about your current health, whether you've been exposed to (or tested for) the COVID-19 virus or if you've taken any recent trips. You also may be reminded to wear a mask while in the office except (obviously) during your dental procedure. The office may even ask you to call when you arrive in the parking lot, so it can limit the number of patients it has onsite at one time.
Now, imagine that you're in your dental office. It's entirely possible that you could be asked to use the available hand sanitizer as you enter, have your temperature taken, or review any pre-visit questions. You could also be handed paperwork on a clipboard, along with a sanitized pen, that you either take with you or deposit in a cup after use. Those magazines, toys, and other items you might've handled months ago in the waiting room? They're likely all gone. And there might also be fewer chairs or some space cordoned off between chairs to promote social distancing. The dental team itself could be wearing different masks, face shields, and gowns, depending on what procedure you're in for. "We are scheduling additional time between appointments to minimize the number of patients in the office at any one time, and we ask that child patients be accompanied by only one parent or guardian," says Dr. Berenshteyn. "We require all patients and family members coming into the office to wear a mask and follow social distancing guidelines, and our waiting areas are closed to maintain proper social distancing. Parents and guardians check-in at the reception desk with their child, make any payments due and schedule upcoming appointments, and then return to their cars during treatment. We call them when treatment is complete to return and pick up their child."
Adirondack Orthodontics also conducts daily temperature and health checks of both administrative and clinical staff and requires all staff to wear protective gear, including masks and gloves, in accordance with local, state, and federal health guidelines. Treatment chairs in the operatory have been set to ensure social distancing. Cleaning is done between appointments, and the office is thoroughly disinfected, as per appropriate guidelines.
So, the next time you make an appointment to go see your dentist, know that the process will be a little bit different, but you'll get the same great care you always did. And that's a reason to smile.
---