Don't Pay the Price for Bad Orthodontia
Presenting Our New Express Aligner Treatment Program
The team at Adirondack Orthodontics is always searching for orthodontic solutions that fit your lifestyle and budget. Over the past few years, we've seen a troubling rise in the use of direct-to-consumer (DTC) orthodontic treatments that have caused severe oral health issues. To provide a better alternative, we're proud to offer our patients our Express Aligner Treatment program .
The Problem with One-Size-Fits-All
Some DTC treatments can create expensive oral health issues because they offer a one-size-fits-all approach. Unfortunately, one-size-fits-all just doesn't work with orthodontia. Teeth can only move insofar as the gums and bones allow, and everyone's situation is different. Aligners made without the supervision of a specialist can result in bite problems, tooth and gum loss, pain, and other structural issues with the bones and gums like TMD, traumatic occlusion, and periodontal breakdown.
Your smile is unique, and your treatment should be, too.
There's a Better Way
At Adirondack Orthodontics, we offer the convenience of discreet aligners delivered right to your door without making you roll the dice on your oral health. Our Express Aligner Treatment program starts with an initial consultation, so the treatment is tailored specifically to you.
All of our treatments are customized and supervised by a board-certified orthodontist who can provide remote consultations to ensure the treatment is progressing as it should. Whether you want rapid results or you care more about convenience and cost, our Express Aligner Treatment program will make you smile.
Save Money, Now & in the Future!
While you may be tempted by the price tag of some DTC aligners, the initial and long-term costs of our Express Aligner Treatment program are lower than you'd think. We can minimize the cost of your treatment with insurance, and we offer flexible payment plans that can be tailored to meet your needs. Plus, with our treatments, you won't have to visit an orthodontist to correct the issues caused by a DTC aligner!
Begin Your Treatment Today
Adirondack Orthodontics is a Diamond Invisalign Provider with five convenient locations throughout the Capital Region. We are also FSA/HSA approved. Whether you want an in-person or virtual appointment, we would be happy to help you schedule a consultation to get started on your Express Aligner Treatment treatment. Give us a call today to get started or request an appointment online!
---
The Relationship Between Orthodontists & Dentists
Answers to Commonly Asked Questions
Dentists and orthodontists both contribute to good oral health; each specialist plays a different role in maintaining a patient's smile. Many prospective patients ask us if they need a referral for our services and if an orthodontist can take the place of a dentist. We encourage you to read on to find out the answers to these commonly asked questions.
The Relationship Between Dentists & Orthodontists
While dentists handle things like routine cleanings, tooth extractions, crowns, and fillings, orthodontists are chiefly concerned with correcting misalignments in the teeth and jaws. Both play an essential role in a person's oral health, and one cannot replace the other.
Orthodontists rely on dentists to identify teeth and jaw issues so that their patients can seek orthodontic care when needed. Since most people see their dentists regularly, dentists are often the first to notice more complex issues like overbites and underbites, which then are handled by an orthodontist. Furthermore, once you begin your orthodontic treatment, there may be issues that arise that your orthodontist will then refer to your dentist. This reciprocal relationship ensures that patients get the best possible care from the professional best positioned to provide it.
No Referral Required
Many dentists have professional relationships with local orthodontists, and your dentist may recommend a specific orthodontist they trust above others. In the Capital Region, dentists often recommend us to their patients due to our reputation for incredible patient care. If your dentist suggests that you come to us, we would be happy to add you as a patient.
However, it's important to note that a recommendation isn't the same thing as a referral, and neither is required to become a patient of ours. Even if your dentist hasn't recommended a specific orthodontist by name, the team at Adirondack Orthodontics can still serve you! All you have to do is schedule an appointment at your nearest location so that we can get to know you and your needs.
Call Us to Learn More
Turn to the orthodontist trusted by dentists throughout Albany, NY; Clifton Park, NY; East Greenbush, NY; Glens Falls, NY; and Latham, NY: Adirondack Orthodontics! We can get you started with a free consultation and tell you more about the many ways we can tailor our services to meet your needs. New patients are encouraged to visit this page to get a better idea of what to expect on their first visit. We look forward to seeing you.
---
How Young Is Too Young For Orthodontic Treatment?
Misalignment in a child's teeth may seem like a normal occurrence, but it is often a sign of things to come. Baby teeth that are misaligned, improperly spaced, or overly crowded create a path for permanent teeth to follow suit. Ensuring that you are setting your child up for a beautiful, healthy smile starts when they are young.
In the past, orthodontic treatment wouldn't begin until all of the patient's permanent teeth were properly in place. The belief was that orthodontic appliances would need to be adjusted too often to account for non-permanent teeth that would eventually fall out. Advances in orthodontic technology now encourage a two-phase treatment plan that emphasizes starting realignment at an earlier age, sometimes as young as six or seven years old.
Warning Signs
If your child's smile has significant crowding, misalignment, or demonstrates functional issues with their teeth, they may be a candidate for Phase One treatment. Children who have habits that may affect their dental development, such as sucking their thumb, are more likely to require orthodontic treatment.
The Benefits of Starting Orthodontic Treatment Early
Ignoring issues with your child's smile can be costly, in terms of both time and money. It's bad enough to go without a smile they are proud to show off but even worse, foregoing treatment often leads to additional, more serious problems down the road. Baby teeth carve the path through which permanent teeth erupt, so putting off treatment until permanent teeth come in all but assure they will have significant alignment issues that need to be treated.
Phase One treatment can mitigate many problems; in some scenarios, it can actually prevent invasive procedures, such as extractions. And while a Phase Two treatment plan, or what many consider traditional treatment, is often necessary, the complexity is typically reduced by ensuring your child's teeth are set on a path to align properly at a young age.
Schedule Your Free Consultation Today
Giving your child a smile they'll love is one of the best things you can do for them. Adirondack Orthodontics is proud to offer free consultations for children to see if they are a candidate for Phase One orthodontics. No referral is necessary, and our consultations are quick (about 20 minutes) and painless. Contact us today and we can let you know if an early orthodontic treatment plan is right for your child.
Adirondack Orthodontics is committed to providing a safe, effective, affordable, and pleasant experience for every patient. We look forward to meeting you and your child!
---
The Health Benefits of Braces
For most people, the decision to wear braces is related to aesthetics. Who wouldn't want a beautiful smile with straight teeth that can be shown off proudly?
It's important to know that braces also provide a host of additional benefits – including improved health – both in the short term and for years to come.
Improved Daily Care
Teeth that are properly aligned are easier to brush and floss, and effective dental hygiene habits decrease the risk of tooth decay, bone erosion, cavities, periodontal disease, and other issues. Nothing is better for your oral health than proper daily care, and braces are a great way to make that care easier than ever.
Speaking With Ease
Extremely misaligned and gapped teeth can make it difficult to speak clearly. Once your teeth are straightened, the associated speech difficulties will be lessened dramatically or removed altogether.
Enhanced Digestion
You've probably heard that each bite of food should be chewed 10, 15, or 20 times before swallowing to make it easier for your body to digest. So, if uneven teeth are causing difficulties with chewing, it may also impact your digestion. As braces straighten your teeth, you'll be able to chew food properly so your body can break it down efficiently.
Increased Confidence
In addition to the physical benefits, braces have also been shown to increase confidence. If you've had crooked teeth, you may have tried to hide your smile in photos and in front of friends. A straight, beautiful smile can give your self-esteem a boost.
There's no question that braces offer far-reaching advantages. If you have problems speaking, chewing, brushing or flossing, or if you're embarrassed by your smile, call us at Adirondack Orthodontics and schedule your complimentary consultation today. We'd love to help you enjoy the functional, attractive smile you've always wanted!
---
Times Union's 2020 Best of the Capital Region
The numbers don't lie! We're honored to have been named to the Times Union's 2020 "Best of the Capital Region" list in the best dentist/orthodontist category. Thank you to all of our fabulous patients and wonderful families who helped make this possible.
For years, Adirondack Orthodontics has helped residents of the Capital Region attain their goal of having an incredible smile. With five locations in Albany, Glens Falls, Latham, East Greenbush, and Clifton Park, we help ensure the entire region has the service that they deserve. Because of the best patients, best families, and the best staff, Adirondack Orthodontics is a great place to achieve a healthy, beautiful smile!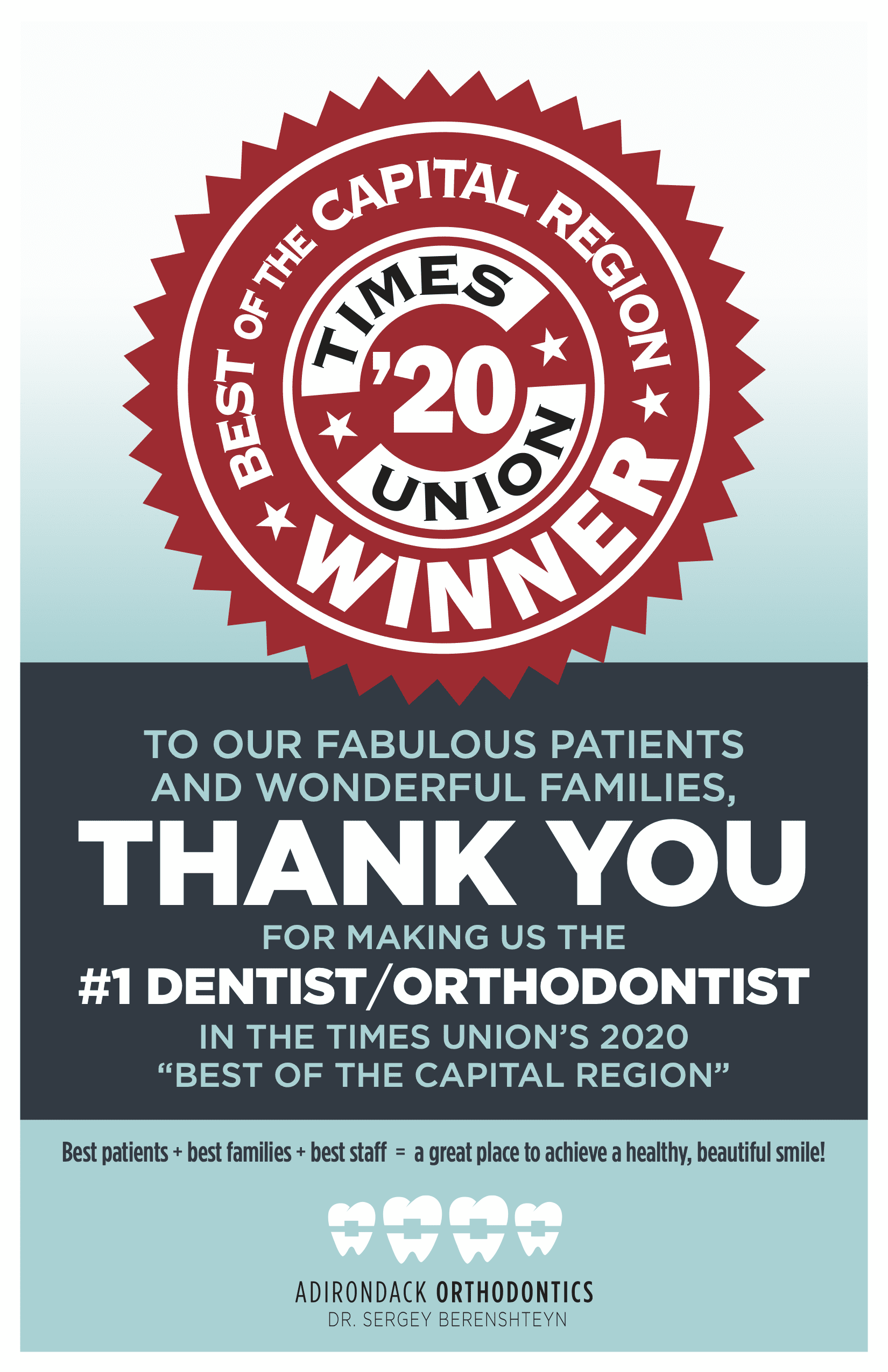 ---
Adirondack Orthodontics Opening Fifth Office
This article originally was posted in the Albany Business Journal
---
Before the Covid-19 pandemic hit, Dr. Sergey Berenshteyn had plans to open a fifth Adirondack Orthodontics office in Glens Falls. But when he had to temporarily close his four offices and furlough staff in mid-March, he put those plans on hold.
Now that he's reopened his offices and brought back all staff, he's moving forward with the plans.
Berenshteyn this Thursday is opening a new office in Glens Falls at 88 Broad St. The practice will have a suite of about 3,500 square feet in the building owned by Glens Falls Pediatric Consultants.
"I was always optimistic that things would recover, but I was a little bit concerned. But for now, we are recovering. June and July were good months," Berenshteyn said. "Now that we're reopened, I'm still optimistic, and I decided to keep going with my plans."
Berenshteyn, a 40 Under 40 honoree in 2019, opened his fourth office in mid-January in East Greenbush. The other offices are in Latham, Guilderland and Clifton Park.
He's already hired two clinical staff for the location. And a third orthodontist started about a month ago, allowing the practice to further open scheduling availability.
Existing patients are still regularly getting the checkups they need. At this point, new patient flow is down by about 15%-20%.
"I was concerned with what the patients' attitudes may be once we reopened. We took a lot of precautions to make our patients feel comfortable and keep our patients and our staff safe."
An expanded schedule has allowed more people to receive services, he said, especially now that many are working or attending school remotely.
"People actually have the time right now to come see an orthodontist. I think this is one of the reasons we've been able to bounce back."
---
The Importance of Retainers
After investing in your straight, healthy smile, it makes sense to do everything you can to keep it. Retention is just as important as the rest of the process, and this is what a retainer is for. Your retainer is made specifically for you, custom-designed to fit your teeth exactly and keep them in the desired position. Once your orthodontic treatment is complete, wearing your retainer at night, and keeping it clean and cared for, is essential to preventing your teeth from moving.
Occasional wear and tear is normal, as is outgrowing a retainer. No matter the circumstances you find yourself in, the team at Adirondack Orthodontics will be there to help keep you on track.
Has your retainer worn out?
Retainers can last for many years, but wear and tear does occur. If you wear your retainer every night and it still fits you, we can easily create a duplicate retainer.
Does your retainer no longer fit, but you're still happy with your smile?
Maybe you've forgotten to wear your retainer a few too many times. If this is the case, your teeth may have moved. While this is not ideal, we can create a new retainer that fits your mouth. Please don't attempt to use your current retainer if it doesn't fit; it's better to simply have us create a new retainer that suits the current shape of your mouth.
Does your retainer no longer fit, and is your smile not as straight and even as you'd like it to be?
Failing to wear a retainer for a long time may mean that you need help getting your teeth back to where they were. If you have an extreme overbite or underbite once again, or if your teeth are crooked, you may need to schedule an appointment to reevaluate your treatment plan. Fortunately, you probably won't be starting from scratch.
While we always recommend faithfully wearing your retainer once your treatment is complete, we are here to help with fixing your retainer or recommending the services you need to achieve a beautiful smile once again.
Contact Adirondack Orthodontics for assistance with all of your retainer and orthodontic needs; we would be delighted to tell you more and help you begin or continue your journey to the smile you've always wanted.
---
The Dangers of DIY
Put Your Health First: Choose Orthodontics Over DIY
If we've learned one thing during the COVID-19 pandemic, it's the importance of putting health and safety first. That makes this a good time to remind new and prospective patients why it's far better to straighten your smile with the help of a skilled and trained orthodontist rather than using a do-it-yourself option.
The Dangers of DIY Aligner Methods
DIY braces may seem like a fast and easy solution, but at-home methods can lead to long-term oral health problems that will ultimately require the expertise of an orthodontist to correct. Attempting to save money in the short term can have long-term consequences, both on your wallet and your health.
Why is that? The DIY approach is typically a one-size-fits-all solution. It doesn't take X-rays or conduct exams – in other words, it doesn't take your personal situation into account. In addition, there is no orthodontist to monitor the process, evaluate your progress, assess whether treatment is proceeding as it should, and adjust your treatment plan if needed. The resulting health issues can be significant: long-term bite problems, tooth misalignment, and infections are just some of the problems that can crop up after trying DIY orthodontia.
The Advantages of a Board-Certified Orthodontist
Rather than risking your smile and health with a dangerous DIY "solution," turn to a proven expert who lives and works in your hometown. A board-certified orthodontist is uniquely educated and trained to provide the expert services needed to help you gain a healthy, beautiful smile. These are just some of the benefits of working with a licensed professional orthodontist:
Personalized Treatment Plans
At Adirondack Orthodontics, an on-site, board-certified orthodontist will complete X-rays and a visual exam, explore your medical history and tailor a customized treatment plan that meets your specific needs. We can even utilize technology to show you what your new smile will look like before we begin treatment!
Customized Payment Plans
When it comes to your budget, Adirondack Orthodontics has you covered. We can tailor a plan that will work within your budget, and we are a participating provider with nearly all insurance plans. We'll also work with your insurance company to make sure you get the most out of your benefits and handle all the administrative details so you don't have to.
Long-Term Retention
One of the most important factors that make choosing an orthodontist superior to a DIY method is retention, or the ability to keep your smile after the treatment. At Adirondack Orthodontics, lifetime smile maintenance is guaranteed.
Convenient, Friendly Service
Flexible scheduling, caring and compassionate staff members, and affordable service are just some of the qualities that set us apart. At Adirondack Orthodontics, our patients are our most important priority!
Invest in Your Smile Today
Your health is too important to risk with a do-it-yourself treatment. Turn to the team that provides a personalized solution under the supervision of a licensed, board-certified orthodontist.
Get started at Adirondack Orthodontics today and allow us to create a treatment plan just for you! We are proud to treat all cases, no matter the challenges. Whether Invisalign is the best treatment for you, or you choose another solution such as ceramic or metal braces, we are here to help you gain and retain a beautiful smile.
You deserve the best in oral care, so skip the gimmicks and invest in your smile by calling Adirondack Orthodontics. Schedule an appointment today at one of our convenient locations in Clifton Park, Albany, Latham, or East Greenbush, NY. It would be our pleasure to provide you with incredible orthodontic care that puts your health, safety, and smile first!
---
Help Us Win Best of 2020!
We have been nominated for Times Union's Best of the Capital Region
Each year, people throughout the Capital Region nominate businesses to participate in the Times Union's Best of the Capital Region contest, and readers vote for their favorites in each category. Adirondack Orthodontics is proud to have been nominated for the Best of 2020 in the "best dentist/orthodontist" category!
Please help us win by casting your vote and showing your support for our team. Voting begins on February 24th at 6:00 am Eastern and ends on Thursday, March 5th. Every person can vote once per day throughout the voting period, and even better, each voter is automatically entered to win $500!
Don't forget to click "share" on the voting page to encourage others to vote. Thank you for all of your support, which has allowed us to stand out in the Capital Region.
How to Vote
---